Press Releases

MEETING PROFESSIONALS INTERNATIONAL NAMES PENNSYLVANIA CONVENTION CENTER 2018 VENUE OF THE YEAR The PA Convention Center accepted its award at MPI PHL Awards Celebration at the National Constitution Center
PHILADELPHIA (May 15, 2019) – The Meeting Professionals International Philadelphia Area Chapter (MPI PHL) has named The Pennsylvania Convention Center its 2018 Venue of the Year. This award recognizes a venue that has made significant leadership and professional contributions to the meeting and event industry. MPI PHL was founded in 1978 and is a regional professional organization dedicated to serving the diverse needs and development of its members. Meeting Professionals International is the largest meeting and event industry association worldwide.
"The Center is honored to be named Venue of the Year by MPI PHL. Our team works diligently to continually improve and innovate to best serve our guests. We are thankful for this recognition and commend our team who are key to our success." said Gregory J. Fox, Esq., Chairman of the Board of the Pennsylvania Convention Center Authority (PCCA).
In April of 2019, the Center hosted an MPI PHL event Global Meetings Industry Day Philadelphia. The event was a well-attended, vibrant meeting. In addition to educational programs and networking, the day highlighted panel discussions on homelessness, human trafficking, and their impact on the hospitality industry. John J. McNichol, President and CEO of the Pennsylvania Convention Center, moderated the Homelessness panel. Attendees also took part in a community service activity in support of Covenant House Philadelphia.
"Success builds upon success…smart work, customer service training, and the positivity at the Center has led to great strides." said Kelvin D. Moore, SMG Regional General Manager. "Being named Venue of the Year by MPI PHL gives testament to this…thank you for this recognition and to Linda Jones from the Center for your service with MPI PHL."
MPI PHL also named award winners in categories of Planner of the Year, Supplier of the Year, Tomorrow's Leader, Chapter Leader of the Year, Volunteer of the Year, and the President's Award at its event at the National Constitution Center.
About the Pennsylvania Convention Center The Pennsylvania Convention Center is in Center City Philadelphia at the heart of the City's many cultural offerings, world-class dining, and entertainment scene. Now managed by SMG, the Center is the 14th largest facility in the nation and features the largest exhibit space and ballroom in the Northeastern U.S. To learn more about The Pennsylvania Convention Center, please visit www.paconvention.com.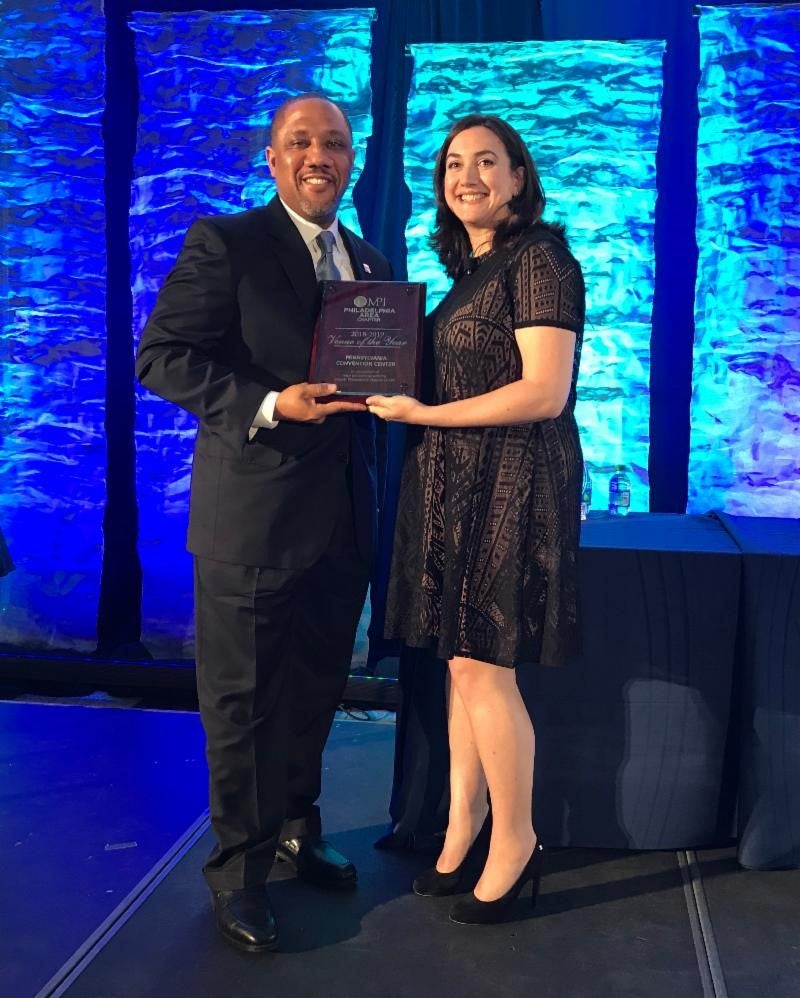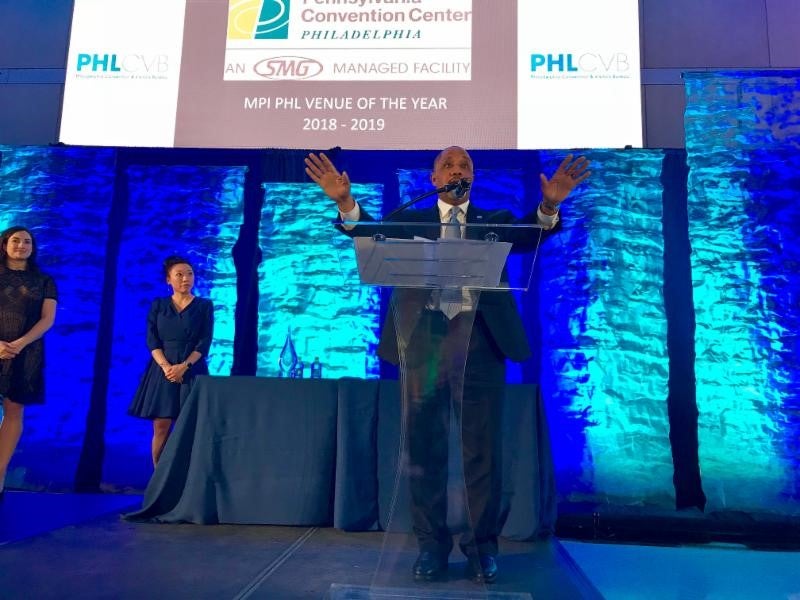 New electricity agreement projected to save Pennsylvania Convention Center more than $550,000
PHILADELPHIA (January 25, 2016) - The Pennsylvania Convention Center will save up to $550,000 through 2018 under a new electricity supplier agreement with Constellation Inc. to power the 2-million-square foot facility and to use 25 percent renewable energy.
The Center's Board of Directors has undertaken a philosophy of improvements to the facility that target energy efficiency, operational efficiency and a reduction in the building's carbon footprint.
"This was a very good time to lock-in a future rate that assures consistency in our utility budget," said Gregory J. Fox, chairman of the Pennsylvania Convention Center Authority. "We have been using less energy in recent years as we find new ways to improve our energy efficiency across the Convention Center. These savings will contribute to our overall efficiency efforts."
The fixed rate will allow the Center's operating costs to be held constant, despite fluctuations in weather patterns and other variables.
"If we hit a polar vortex in the next two years, we are protected with budget certainty," said John J. McNichol, the Center's president and CEO. "It is an excellent time to buy in this market."
The Center issued a request for proposals on Dec. 29, 2015. Nine electricity suppliers submitted proposals that were opened Jan. 13, 2016. SMG, which operates the Convention Center, and its energy consultant, Choice Energy Services of New York City, reviewed the plans and then locked in the rate for the winning bid, according to Janet Mitrocsak, director of facilities for SMG.
Constellation of Baltimore, Md., will supply electricity to the Convention Center, beginning in June 2016 for a 24-month period, ending in 2018. Fixed pricing was requested with a 25 percent renewable energy source component. The fixed rate is just above 5 cents per kilowatt hour, which will result in at least $275,000 in annual savings for the two-year period, estimated John Tracey, SMG's director of finance.
"We are very excited about our new relationship with the Pennsylvania Convention Center Authority and SMG. We look forward to helping them achieve their current and future energy goals and objectives," said Brian Weatherford, executive director, Constellation, an Exelon company.
The contract includes an online portal with Choice Energy Services that allows the Convention Center to monitor, store and measure all of its utility information. "We are thrilled to have represented the Pennsylvania Convention Center in their RFP process. We hope to continue to provide the Convention Center value through our proprietary expense data management system, Choice Connect, as well," said Kiki Dikmen, managing partner, Choice Energy Services.
The Center already has updated its lighting controls and building automation system to enhance energy efficiency. It also is installing a new roofing system that increases thermal insulation, allowing the facility to operate more efficiently and further reducing energy costs. The facility's 2011 expansion received a LEED-gold designation (Leadership in Energy and Environmental Design) from the U.S. Green Building Council.
About the Pennsylvania Convention Center
The Pennsylvania Convention Center is located in Center City Philadelphia at the heart of the city's many cultural offerings and world-class dining and entertainment scene. Now managed by SMG, the Center is the 14th largest facility in the nation and features the largest exhibit space and ballroom in the Northeastern U.S. The Convention Center will host the World Meeting of Families prior to the Papal Visit in September.
About SMG
Founded in 1977, SMG provides management services to more than 243 public assembly facilities including convention and exhibition centers, arenas, stadiums, theaters, performing arts centers, equestrian facilities, science centers and a variety of other venues. With facilities across the globe, SMG manages more than 15 million square feet of exhibition space and more than 1.5 million sports and entertainment seats. As the recognized global industry leader, SMG provides venue management, sales, marketing, event booking and programming, construction and design consulting, and pre-opening services for such landmark facilities as McCormick Place & Soldier Field in Chicago, Pennsylvania Convention Center, Houston's NRG Park, and the Mercedes-Benz Superdome. SMG also offers food and beverage operations through its concessions and catering company SAVOR, currently serving more than 140 accounts worldwide. For more information, visit www.smgworld.com.
For new media inquiries contact:
Pete Peterson
215-893-4297
[email protected]