Plan of Operations
We are truly honored that you have selected our state-of-the-art facility as the venue for your event. We've prepared a comprehensive Plan of Operations to provide you with customized information for the most personal experience possible.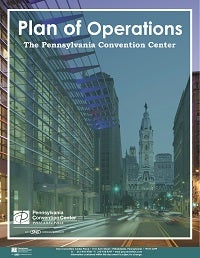 Our staff of experienced industry veterans, working under ASM Global, the nation's leader in facilities management is ready to serve your needs.We will guide your team through an initial consultation followed by an integrated planning and production process – all culminating in the detailed execution of your special event. And our assistance will not end there. We will extend our partnership with you for post-conference meetings to ensure billing accuracy through our Contractor Services Department.
Click below to find our Plan of Operations including everything you need to know about the Pennsylvania Convention Center. The Plan of Operations provides important guidelines and helpful tools to facilitate your event as well as descriptions of the many professionally managed services that we offer.