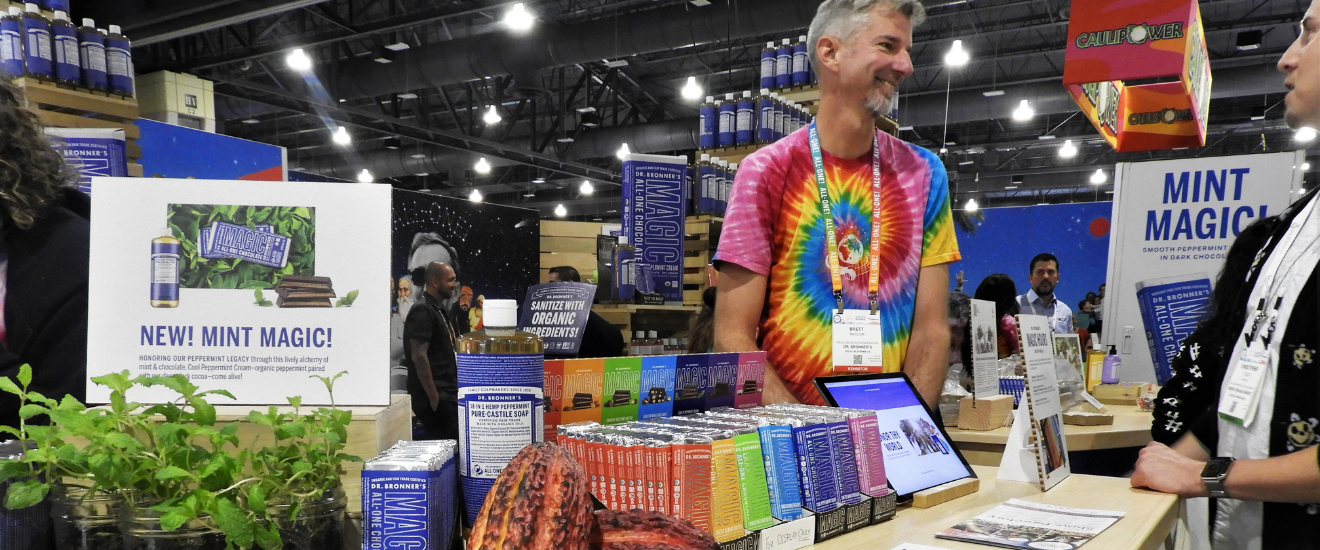 It's Not Easy Being Green: 6 Tips to Help You Plan a Sustainable Event
Sustainability and environmental preservation are no longer just buzzwords. In the business world, including a strategic approach to minimizing an organization's operational impact on the environment is now a key aspect of a company's strategic plan and brand identity.
The growing focus on sustainability also extends to conventions and events, which are often representative of an organization's brand identity. Meeting planners are increasingly incorporating robust sustainability and corporate social responsibility programs into their events, and attendees seek to align with events and organizations that share their same, socially and environmentally conscious values.
Because of this event trend, transforming your company and event brand identity into one that is environmentally conscious, is an essential step to maintaining the success of your event.
Why Sustainability in Events Matters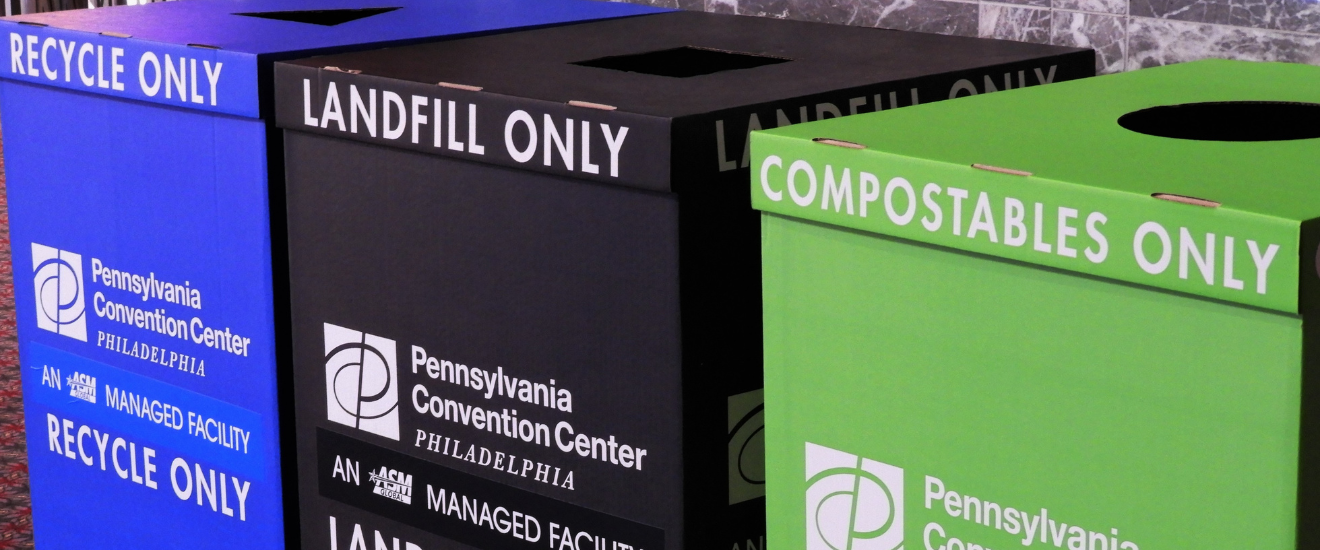 Research has shown that conferences and events have the capability of leaving a sizeable carbon footprint on an event's destination. This refers to the amount of carbon dioxide and other carbon compounds (greenhouse gases) that are emitted, due to the consumption of fossil fuels by the event production processes and attendees. The main contributors to an event's footprint are:
Travel - which includes flights, buses, taxis, etc., and can account for about 70% of an event's total carbon emissions.
Waste – which comes from food, event materials, and trash, and can account for up to 30% of the overall carbon impact of the event.
Additionally, reports suggest that a typical conference attendee produces approximately 400 pounds of carbon dioxide per day, which can increase to approximately 2,000 pounds if extensive travel is used.
To address this issue, in 2019, the Events Industry Council (EIC) developed Principles for Sustainability in Events to provide the event industry with best practices and standards for sustainability in events. The four principles encourage event organizers and suppliers to share the responsibility of implementing and communicating sustainable practices to their stakeholders and provide a guide to ensure that basic environmental practices and social considerations are included in an event's plan.
By taking the steps to "go green", meeting planners will have the opportunity to engage the local communities in a more meaningful way and create a unique event experience for attendees and exhibitors.
How to "Go Green"
The Pennsylvania Convention Center has been a longstanding proponent of environmental conservation and a reliable support to our customers on their green initiatives. Over the years, through working closely with our sustainability partners, we have gained a wealth of expertise in successfully hosting green events and helping our customers achieve their own sustainability goals.
Below are a few tips to help you develop and implement an effective sustainability program and lower the carbon footprint of your event.
1. Develop an Event Sustainability Policy
The first step is to determine and define what your event's sustainability program will look like.
Some shows that have been held at the Pennsylvania Convention Center, such as Natural Products Expo East, have a well-defined and documented sustainability program that covers environmental sustainability, social sustainability and sustainable development.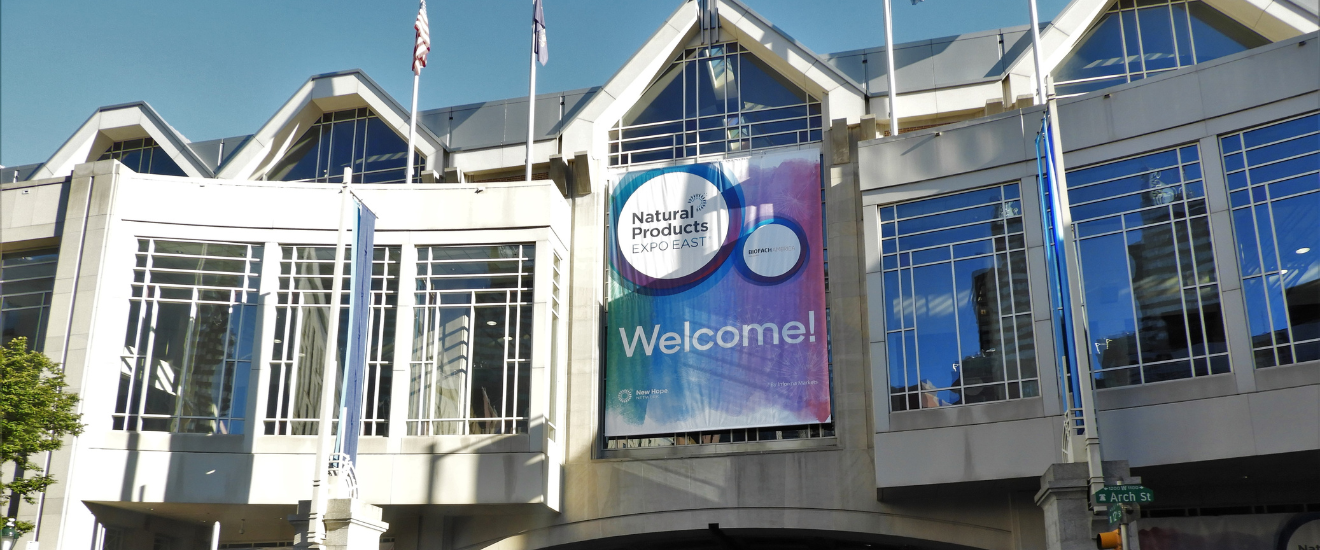 The policy should detail the proposed deliverables, as well as the expectations of exhibitors, vendors, suppliers, and attendees, and should guide all operations decisions for the event.
2. Get Exhibitors, Attendees, and Stakeholders on Board
Once you have determined the elements of your sustainability program, you need to communicate these with your team, exhibitors, attendees, suppliers, and other stakeholders so that all parties are on the same page.
To successfully implement your program, it is important to get buy-in from these groups so that every aspect of your event is consistent with the sustainability values your event represents.
Exhibitors could be encouraged to incorporate sustainable elements into their booths, such as distributing eco-friendly or digital swag such as discount codes, e-tickets, and downloadable items for attendees, using digital brochures, avoiding foam core signage, or donating reusable elements from their booth decor. Attendees could be encouraged to reduce their waste by using refillable water bottles or coffee mugs at the conference, or conserving energy in their hotel rooms. Additionally, when possible, meeting planners should work with suppliers and vendors who also make sustainability a priority in their operations.
3. Assign Team Members to be Sustainability Champions
Once the sustainability program has been communicated to both internal and external stakeholders, "sustainability champions" should be assigned to enforce the various elements of the program.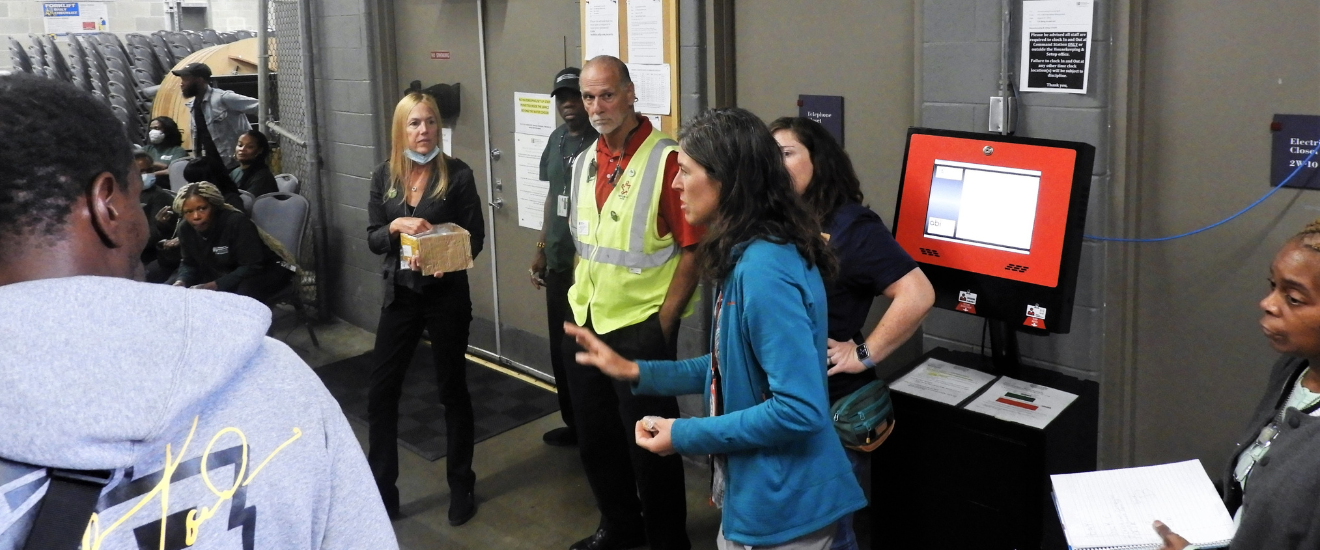 These persons should meet with venue staff, exhibitors, and contractors on a regular basis to identify specific sustainability goals, review the plan of execution, monitor the onsite operations and energy consumption, and assist with quality control checks for the recycling and donation programs at the close of the event.
4. Choose a "Green" Venue
The venue you select to host your event has a significant impact on the success of your sustainability program.
A venue, such as the Pennsylvania Convention Center, that prioritizes sustainability in its daily operations and has an established internal program in place, would be an invaluable partner and resource to help implement your event's sustainability initiatives.
Some questions that you could ask the venue to determine the scope of their sustainability program, include:
What waste management and recycling processes are in place?
Does the venue provide sufficient bins or receptacles for recycling?
Does the venue have signage to guide attendees on the recycling streams that are used (single, construction and demolition, and landfill) and what items should be placed in each bin?
Does the venue have the capacity to assist with recycling additional streams such as compost, E-waste, or U-waste?
Is the venue able to track and report waste and recycling quantities, stream type and tonnage, and landfill diversion rate?
Does the venue have a plan to minimize food production waste? Do they use digesters?
Does the venue incorporate the use of compostable containers or packaging or the elimination of single-use plastics?
Does the facility have sustainable attributes such as LED lighting, occupancy sensors, renewable energy sources, and demand-controlled ventilation to efficiently operate the space?
Is the venue able to monitor and report on the facility and the show's energy usage and conservation?
Is the venue certified by a third party such as Leadership in Energy and Environmental Design (LEED) Certification, which validates the building's construction and/or operations and maintenance practices?
The answers to these questions provide a solid starting point for meeting planners to help with the selection of an environmentally conscious venue partner for your event.
Additionally, the geographical location of your selected venue could have a huge impact on the carbon footprint of your event. Choosing a venue that is conveniently accessible, close to public transport, bike share or shuttle services, accommodation, restaurants, and other activities, would significantly decrease your attendees' carbon emissions contributions.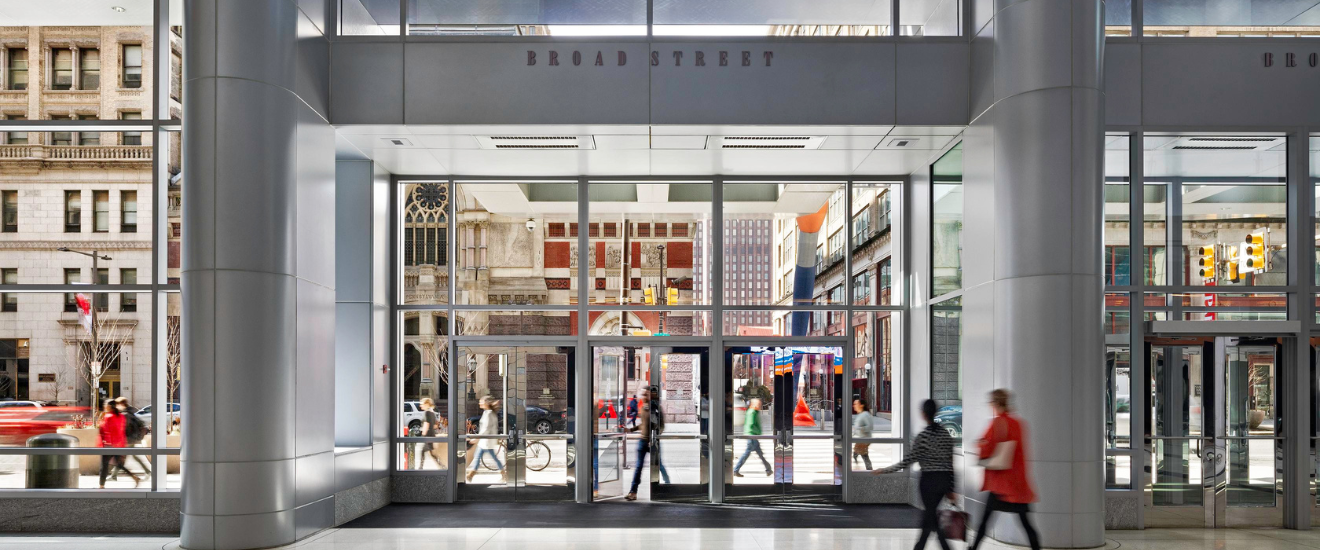 Philadelphia is widely known as one of the world's most walkable cities and the Pennsylvania Convention Center is one such venue that is uniquely located in the heart of the city, within walking distance to several hotels, public transportation, dining, and other attractions. This feature has positioned the Center as a first choice for meeting planners who are seeking to create a memorable and environmentally friendly experience for their attendees.
5. Go Digital
Technology has made it very easy for events to reduce their carbon footprint and paper usage.
As mentioned in the second point, meeting planners should encourage all event stakeholders, including exhibitors, vendors, and suppliers to support the sustainability program by utilizing digital platforms for their activities.
Many of the shows that we host at the Pennsylvania Convention Center have incorporated digital, do-it-yourself kiosks for their event registration; event booklets and agendas have been replaced by event apps; and company brochures that used to fill exhibitor tables, are now easily accessible with one scan of a QR code. All of these practices help to significantly reduce the amount of paper usage and wastage that were once commonplace at many events.
6. Practice Carbon Offsetting
Another trend that we have seen gaining traction in the industry is to host carbon-neutral events.
A carbon-neutral event means that event organizers have made efforts to reduce non-essential emissions and offset the remaining, unavoidable greenhouse gases, to balance out the emissions that result from event activities.
One method of practicing carbon offsetting is in the form of renewable energy certificates (RECs). One REC represents the environmental benefit of producing 1 megawatt-hour (MWh) of electricity with a renewable energy source, such as solar or wind energy.
At the Pennsylvania Convention Center, 50% of the daily energy supplied to the facility is provided from Green-e® certified renewable energy sources. Additionally, an increasing number of the shows hosted at the facility have made the same commitment to reducing their carbon footprint.
Partnerships between a venue, show management, and key stakeholders can demonstrate a cutting-edge path for the sustainable events industry.
Conclusion
Sustainability in events is more than just a trend and has become a mainstay in current event planning practices.
The Pennsylvania Convention Center's Green Team initiative was launched in 2016 and since then, we have implemented significant facility efficiencies and upgrades, participated in meaningful conservation initiatives, and provided reliable, expert support for our customers' sustainable events.
To learn more about the Center's sustainability programs and how you can partner with us for your next green event, read our just released 2022 Sustainability Report or visit www.paconvention.com.
About the Author
Janet Mitrocsak is the Regional Director of Operations (East Coast) for ASM Global and the Director of Facilities at the Pennsylvania Convention Center.
In her role as the Director of Facilities at the Center, Janet oversees the day-to-day facility operations for maintenance repairs, budgets, and contracts. She also leads the safety committee and sustainability programs for the Center.
Janet has been affiliated with ASM Global facilities for the past 30 years and transferred to the Pennsylvania Convention Center in 2014. In her corporate position as Regional Director of Operations, Janet works with several other ASM Global properties to oversee corporate best practices in facility maintenance, operations, sustainability, and safety.