Sustainability/Green Meetings
The Pennsylvania Convention Center is committed to reducing the environmental impact of our operations and services, by taking stewardship pin using equipment, technology, and products designed to reduce negative impacts, while providing clean and efficient facility operations. Our goal is to serve as an industry leader in environmental program implementation and stewardship through a partnership with our guests, team members, partners, and communities.
Our commitment includes the use of safe cleaning products, reduced water use, energy-efficient LED lighting, a new reflective roof, expanded recycling, and streamlined management of HVAC, lighting, power, elevators and escalators. Using technology to 'go green' is critical to our customers and our effort to sustain the Commonwealth of Pennsylvania for future generations.
Each year, the Pennsylvania Convention Center Authority publishes a Sustainability Report to highlight the Center's sustainability initiatives and performance.
The 2022 interactive Sustainability Report can be viewed below.
ASM Global Operations' Goal
ASM Global is operating the Convention Center under its best practices for sustainability and green meetings. The facilities team documents the details of individual programs that address a comprehensive, all-encompassing Sustainability Program. Each program or plan, while standing on its own merits and importance, contributes to the Sustainability Program as a whole and strives to adhere to industry standards of what constitutes a "green meeting venue." The program focuses on measuring, tracking, reporting and improving.
The team also reviews new technology with an eye for reducing the use of electricity, natural gas and water. These changes have included retrofitting the 2 million square-foot facility with LED lighting; new energy management and HVAC systems; and the installation of low-flow faucets.
Recycling Initiatives include:
Single Stream
Composting
Lamp Recycling
Cooking Oil
Pallets
Metal Recycling
Show Materials
Donated Materials
Electronic Waste
Construction and Building Scrap Materials
All previous versions of the Sustainability Report can be accessed below.
2023 Event Industry Council (EIC) Sustainable Event Standards Gold Certification
The Pennsylvania Convention Center earned the Gold Level certification to the Event Industry Council (EIC) Sustainable Event Standards for venues.
The EIC Sustainable Event Standards are a collection of standards developed to assess events industry suppliers on specific criteria for producing and delivering environmentally and socially responsible events. These criteria include organizational management; marketing, communication, and engagement; climate action; water management; materials and circularity; supply chain management; diversity, equity, and inclusion; accessibility; and social impact.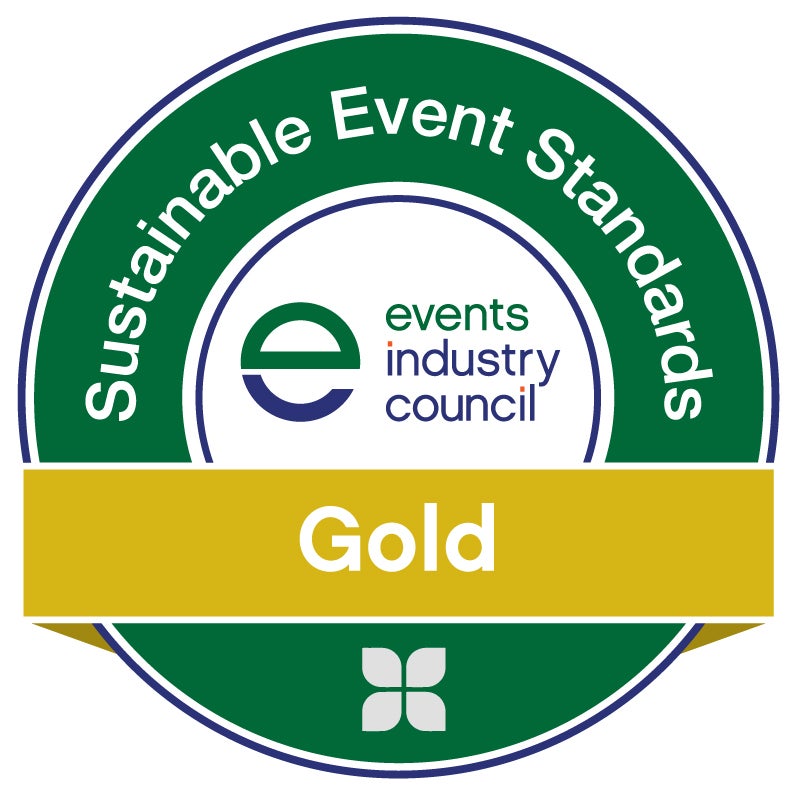 2014 Top Ten Cities for Green Meetings
The City of Philadelphia and the Pennsylvania Convention Center earned the distinction of being ranked one of the top ten U.S. Cities for Green Meetings by GreenBiz. Greenbiz.com cited a number of factors at the Pennsylvania Convention Center that led to its high ranking, including its LEED Gold certification for its 2011 expansion; its use of 100 percent decomposable and biodegradable food and beverage products and Green Seal-certified cleaning products; its use of renewable energy; and energy-efficient lighting and other energy-saving initiatives. The rankings of convention centers were developed based on standards for sustainable meetings as set forth by the Convention Industry Council's Accepted Practices Exchange (APEX) and the American Society for Testing and Materials (ASTM International). The ASTM/APEX standards for sustainable meetings provide a barometer of environmental integrity across nine sectors of event production: transportation, audiovisual, accommodation, onsite office, meeting venue, food & beverage, exhibits, destinations and communications.
LEED® Gold Certification from the US Green Building Council
The expansion and renovation to the Pennsylvania Convention Center in 2011 achieved Leadership in Energy and Environmental Design (LEED®) certification. The Expansion's LEED rating corresponds to the GOLD certification level under the LEED for New Construction rating system. LEED is an internationally-recognized green building certification system, developed by the U. S. Green Building Council (USGBC). It provides building owners and operators with guidelines for implementing practical and measurable green building design, construction, operations and maintenance solutions. The LEED rating system recognizes projects that develop and implement sustainable design strategies for better environmental performance.