Michael A. Nutter Theatre
The Pennsylvania Convention Center offers a state-of-the art, multi-purpose theatre to provide trade-show, convention, and meeting planners with an on-site presentation venue for signature events.
Michael A. Nutter Theatre, named for a former Philadelphia Mayor and Chairman of the Pennsylvania Convention Center Authority, offers 600 seats for film festivals, movie premieres and screenings, corporate meetings, comedy shows, musical performances, poetry events and auditions.
The Convention Center repurposed a former lecture hall with $400,000 in upgrades to its audio and visual systems. The theatre offers a G4 film screen, 4K cinema projector and 7.1 surround sound among its technologies.
To book this space, call 215-418-4750 or email our team at sales@paconvention.com.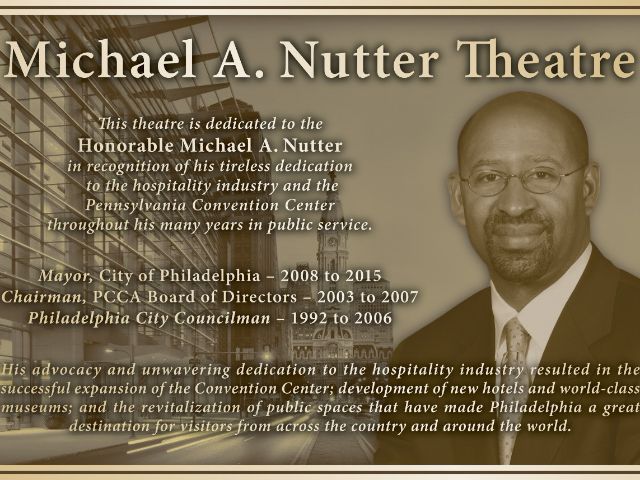 Dedication Plaque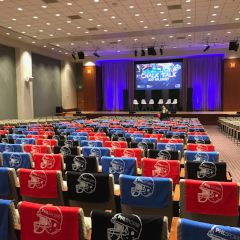 Michael A. Nutter Theatre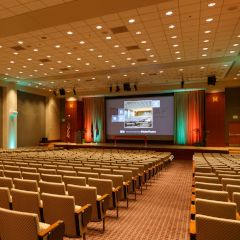 Customized uplighting available
Michael A. Nutter Theatre Highlights
Overview
600 fixed seats with table trays
Built-in stage
Sloped lecture hall flooring
Wheelchair locations among seats
Technology
26'w Stewart Firehawk G4 film screen
Christie CP4220 4K Cinema Projector
7.1 Surround Sound System [switchable to Stereo]
40-Channel Digital Mixer
Digital Snake
Control Booth Audio and Video Monitors
Low-Profile Stage Monitors
Audio and Video Inputs on Stage and in Control Booth
Uses
Facilitate a multi-use presentation space
Community involvement & outreach
Live musical performances
HD movies
Computer presentations
Events
Movie premieres & screenings
Film festivals
Corporate meetings
Comedy shows
Spoken-word events
Musical performances
Auditions
To book the new Michael A. Nutter Theatre and for sales information,
contact our team at 215-418-4750 or sales@paconvention.com.